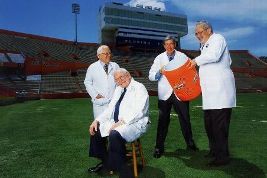 My Comments: I had the pleasure, and the good fortune, to know Dr. Cade personally. Along with other friends and associates, we enjoyed lunch together over countless days. We told stories, talked business, sports, and shared gossip. He was delightful to be with and those days leave lasting good memories for me.
The headline of the following article references the $1B plus in royalties paid to the Gatorade Trust over the past 50 years. Today, I'm proud to play a small role in the distribution of some of those dollars. They flow through a local organization that is close to my heart, the Community Foundation of North Central Florida. Thanks to Mary and Robert Cade and members of their family, it benefits individuals, organizations and ideas whose success is critical to the quality of life we all enjoy here in north central Florida.
I was here when Gatorade became part of our language. There is every reason to think the next fifty years will just as exciting and rewarding, in large part thanks to Gatorade and those who helped make it possible.

By Darren Rovell and ESPN – October 2, 2015
Fifty years after the invention of Gatorade, the men who developed it, their families and friends have now made more than $1 billion in royalties from its sales.
Although details of the royalties given to the Gatorade Trust, which was formed in May 1967, are not public, the University of Florida, which receives a 20 percent cut from the royalties, reported this week that its total take from its piece in Gatorade had risen to $281 million.
That would mean the trust, which originally had nine members including doctors, two trainers and a lab technician, has benefited to the tune of more than $1.1 billion since it was sold to Indianapolis-based Stokely Van-Camp in 1967.
The $1 billion number is a remarkable sum of money considering what it took to get there. Gatorade was invented by Dr. Robert Cade and his medical fellows Dr. Dana Shires, Dr. Alex de Quesada and Dr. Jim Free in a University of Florida lab in 1965.
"I think we'd all be living well without it," said Free, who is the one credited with coming up with the Gatorade name. "But it has enabled us to do things like establish a family foundation and a family office. It also has its challenges in that we cannot let what we have spoil us."
Lawyers of Bingham Greenebaum Doll, who manage the trust, would not say what the royalty structure is, aside from the 80/20 split, or how much it has changed over time.
A document filed to the Securities and Exchange Commission by Stokely Van-Camp, then a subsidiary of Quaker Oats — in a contract with the trust that began in January 1993 — once revealed that the trust would receive a royalty of between 1.9 percent and 3.6 percent, depending on how much Gatorade was sold in a given year. PepsiCo then acquired Gatorade with its Quaker Oats acquisition in 2000.
After his team's formula was used by the school's football program for two years and received great publicity, Cade offered the product in its entirety to the university's head of sponsored research in 1966 in exchange for $10,000.
When the university passed, the drink was brought to Stokely Van-Camp, which turned down the doctor's offer to sell the product for $1 million and instead agreed to pay the doctors $25,000 up front, a $5,000 bonus and a five-cent royalty on every gallon sold.
Stokely Van-Camp rolled out the drink in July 1967 and paid $25,000 to be the official drink of the NFL.
Soon the product that the school's head of sponsored research thought didn't have much potential was a marketing phenomenon.
But the school wasn't done. "They told me Gatorade belonged to them and all the royalties were theirs," Cade wrote in his autobiography. "I told them to go to hell. So they sued us."
In the lawsuit, filed in July 1971, the University of Florida said its labs, its football players and its mascot's name were used in the formation of the product.
But the school had a couple of problems with its case.
Cade and the other doctors were funded by National Department of Health grants and, perhaps more significantly, Cade had somehow never signed the standard invention agreement, which in most cases assigned about 75 percent of the earnings from a deal reached by a University of Florida employee back to the school.
The government, which funded the doctors, also sued the Gatorade Trust, but that lawsuit was dismissed when the doctors agreed to back off three patents they had filed for the drink and published the formula in a medical journal.
Content not to have the bickering drag on further, the Gatorade Trust settled with the school with the first royalty period beginning in September 1972.
In the first four years, the school reported receiving a total of $460,014 in royalties.
As the sports drink market grew, Gatorade continued to dominate, and sales in recent years have surpassed $5 billion a year.
"Things really took off when Quaker Oats bought the brand [in 1983]," Free said. "They really knew how to connect it to what was going on on the field and had all the deals with the major sports."
In celebration of the 50th anniversary of Gatorade being used in a game, Shires, de Quesada and Free will be honored Saturday at Florida's home football game against Ole Miss.
The Gators will use specially created Gatorade squirt bottles at the game to mark the occasion.
Cade, who died at 80 in 2007, will be represented by his daughter Phoebe Cade Miles.
Miles is breaking ground on a new $10 million museum of creativity and invention dedicated to her father on Friday in Gainesville, Florida.