My Comments: This week I've decided to focus my written thoughts on the stock and bond markets. As a retirement planning professional, what people have to spend in future years is very much a function of how the markets perform.
All of us are aware the recent market crash was triggered by the pandemic and society's response. Economic activity came to a grinding halt. Investors rightly assumed that without income, all business activities would experience lower earnings which would in turn drive stock prices down.
Government leaders now argue we must therefore end our social distancing in response to the pandemic. Only then would commerce resume, start making money, and investors would once again see stock prices rise.
We can study historical models 'till the cows come home and some of those models may apply this time. Or none of them turn out to be right. No one knows.  Unfortunately, I think this writer is more likely to be right than wrong.
It's long, there are lots of charts, so I've only given you a glimpse of what he shows in support of his arguments. Just click on the link if you want more.
by Dale Roberts \ 8 APR 2020 \ https://tinyurl.com/y8nsfvjy
We experienced the most violent correction in history.
And then, incredibly, the stock markets snapped back with a rally that many even called a new bull market.
Many will say 'Bull' indeed. Is the worst behind us?
We are entering a recession. The market low has never taken place outside of the recession.
We did not yet blow off the steam from the longest bull run in history.
This is THE QUESTION these days. Was that it?
That was the stock market correction?
Have we already set the new lows as the stock markets march on with a new bull market? Wow, that was quick. Quick down, quick up?
Yes, it was the most violent correction in stock market history.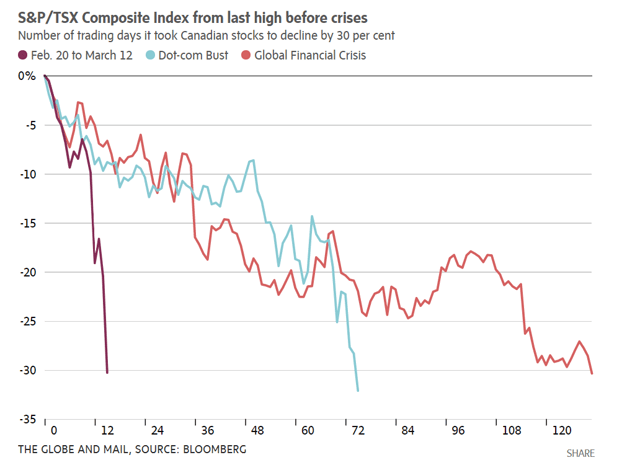 The above is a chart showing the decline of Canadian stocks. It's a very similar chart for US stocks (IVV) (VTI) and stock markets around the Globe.
Here's a six month chart for the S&P 500, from Seeking Alpha …

Again that correction only needed a couple of weeks. The total correction was 36% according to the Seeking Alpha chart. That was followed by a 19% 'recovery'.
(To read the rest of the article, please follow the link above…)