First, this appeared nine days ago. It's old news.
Second, not all old new is bad news. If it influences how you think about your investments today and next week, that's a good thing.
Because I firmly believe we're going to see a lot more bad news before we see any sustained good news. There'll be days when we're tempted to jump in and buy something, but we're not there yet. I think.
By Erik Conley \ 18 MAR 2020 \ https://tinyurl.com/yxxfta7x
Summary
At its peak the Trump market was up 49%.
Today it's up 5.6%.
Trumpists are not going to like this post.
I'm guessing that about half of those who read this post are Trumpists, and half are Obamaists. That's o.k. with me. This is a factual comparison of the Trump stock market vs. the Obama stock market on the identical time scale – 3.35 years into their presidency.
Before you begin commenting, be aware that I voted for Trump three times in 2016. Once in Wisconsin, once in Michigan, and once in Pennsylvania. The RNC provided bus transportation and fake voter I.D to make this possible.
(BTW, I also voted for Obama 3 times, using the identities of dead people in Chicago.) But I digress.
Trump vs. Obama stock markets, 3 years in.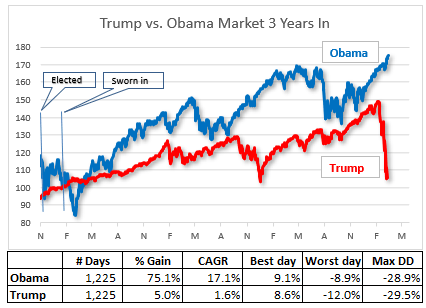 After 1,225 days at the controls, Obama is clearly in the lead as far as the stock market is concerned. Trump was getting close to catching up with Obama until the wheels came off on February 20th.
The gap in performance is wide. The Obama market was up by 75% while the Trump market, on the same time frame, is up just 5%. What a difference a month makes.
Drilling down into the numbers.
The blue and red lines on the above chart are self-explanatory. So, let's drill down into the numbers in the table below the chart.
Starting from left to right, the number of days in office are identical – 1,225.
The % gain is the cumulative, price-only change since each man was sworn into office. On this metric the score is 75% to 5% in favor of Obama.
CAGR is the compound annual growth rate of the market return. On this metric the score is 17.1% to 1.6% in favor of Obama.
Best day is a close call. Obama edges out Trump on this metric.
Worst day isn't very close. Trump's worst day was just this past Monday.
Max DD (maximum decline from peak to trough) is a virtual tie in my book.
Am I picking on Trump when he's down?
Of course not. If he manages to pull us out of a health and financial crisis, and the stock market recovers to make a new high, I'll be the first one to sing his praises. But it's going to be a tough slog ahead.